So, let's take a look at why mangos are such a smart and healthy choice for your diet.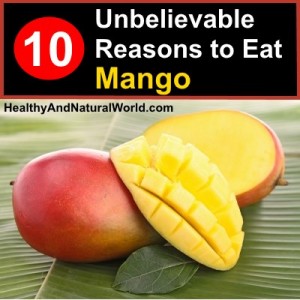 1. It Helps Fight Cancer
Many foods are believed to have anti-cancer properties, but rigorous research is needed to support these claims. Texas A&M AgriLife Research is a big research facility that studies the impact of food on health, looks at the biological underpinnings of cancer, and develops new cancer treatments. Mango was one of their recent research projects. Doctor Talcott, a nutrition scientist at AgriLife Research, led a study that showed that mango's polyphenols (antioxidant-like plant chemicals) could have cancer-fighting properties.  Adding mango to your diet can be particularly beneficial for breast andcolon cancer prevention and further studies are in progress.
Further reading: There are other foods that protect against cancer development and you can read about them in my post:Discover the Top 14 Foods That Protect Against Cancer Development.
2. It Preserves Sharp Vision
According to the Institute for Natural Healing, eating three servings of mango per day (1 serving = 1/2 – 3/4 cup) can reduce your chances of developing age-related macular degeneration by more than a half. Mangos contain a lot of vitamin A, which is very important for eye health, and they're also rich in zeaxanthin and lutein – two potent antioxidants. They protect the eyes from high-energy light waves, such as some ultraviolet rays in sunlight, which can be harmful to the eyes.
Further reading: I've already shared with my readers my 9 secrets for preventing eyesight problems and improving your vision naturally.
3. It Supports Heart Health
Mango is high in antioxidants and fiber, which are both crucial for the protection of the heart muscle. A diet high in fiber can significantly reduce your chances of developing heart disease. A cup of sliced mango can contribute three grams to the daily recommended amount of fiber, which is 25 grams for women and 38 grams for men. According to research, for every 7 grams of fiber you eat, the risk of heart diseases goes down by 9 percent.
Further reading: Get more information on how to keep your heart in top working condition in my post: The Best Foods and Herbs for Healthy Heart, Including Heart Tonic Recipe.
4. It Keeps the Skin Young
Vitamin C in mango supports collagen production, which makes your skin tighter and firmer. Since mango's zeaxanthin and lutein protect from the harmful effects of UV light, eating mangos can reduce skin damage from the sun. Mango can also unclog skin pores and is used as a face mask. Now I understand why that girl was wearing slices of mango on her face, I hear some of you exclaim.
Further reading: You can get more information on how to use essential oils for healthy skin in my e-book Magical Aromatherapy and also in this post. Also read my article about the top 8 vitamins and nutrients that are essential for healthy skin.
5. It Boosts Brainpower
Mango contains vitamin B6, which is the vitamin that stimulates the brain and preserves your cognitive function. Some studies have shown that lower levels of vitamin B6 are connected with decreased cognitive abilities in older people. Vitamin B6 has been praised as a dietary supplement for cognitive health. It can improve memory and concentration, and even ward off dementia. So instead of taking the substitute, why not going directly to the source and enjoying the tasty mango.
6. It is a good source of Fiber
Eating a diet rich in fiber is important for many aspects of our health. You require fiber for healthy digestion, and when you're bowels are happy, the quality of life always goes up. Fibers also help prevent heart disease and reduce the chances of developing type 2 diabetes and diverticular disease or diverticulitis, which affects the colon.
Further reading:  Ginger as well as some herbs are also very helpful in improving your digestion and you can get more information about this subject in my e-book The Herbal Remedies Guide as well as in this post.
7. It is High in Key Vitamins and Minerals
Mango contains a plethora of essential vitamins and minerals. When you eat this refreshing fruit, you're treating your body to a dose of vitamin A, vitamin C, and vitamin K. The latter supports bone health. And then there is the conglomerate of B vitamins. B1, B2, B5, B6, niacin and folic acid can all be found in mango. Folic acid is particularly important for pregnant women, as it reduces the possibility of birth defects. One cup of fresh mango supplies 71 mcg of folic acids, and the daily intake should be around 400 mcg. But that's not all. Mango is also a great source of minerals, including potassium, magnesium and calcium. This really is the king of fruits and such a great source of nutrients!
Further reading: read about the 5 Essential Nutrients You May Be Missing From Your Diet.
8. It Aids Your Digestive System
One thing that helps your digestive system is the abundance of fiber in mango. And the other thing is the presence of a digestive enzyme that helps break down proteins. The enzymes are present in ripe mangoes, so check the fruit for ripeness before you eat it. If you can get hold of mango flowers, they are also used to cure diarrhea, chronic dysentery and urinary tract infections.
Further reading: learn how to make a natural digestive enzyme detox smoothie.
9. It Boosts Your Immune System
By supporting the digestive system, mango is also good for your immunity. Not many people know that, but thegastrointestinal system is actually a part of the immune system and 80 percent of immune defense lies there. Your general health is intertwined with your gut health. Mango also contains a lot of vitamin C, which additionally boosts your immunity.
Further reading: 10 Quick Life Hacks to Improve Your Immunity Almost Immediately and natural substances to boost your immune system.
10. It Help With Your Dieting Efforts
Mango can be so deliciously sweet, yet is very low in calories. One cup of mango comes to only 100 calories. According to the University of Oklahoma, a diet which involves eating mangoes, regulates the appetite, and reduces the levels of glucose and cholesterol in the blood. Isn't it great when dieting can be supported by tasty food?
Further reading: read about my 9 secrets of losing weight without diet and also about spices and herbs that will help you lose weight. You can also find more information about healthy eating and nutrition in my e-book Effortless Healthy Eating which is part of the Natural Health Revolution Program. This program will help you to achieve your health, nutrition and weight loss goals.
So start eating mango today! It can be enjoyed in many different ways – as a healthy snack, a part of a delicious smoothie, or mixed into salsas and chutneys. For extra kick, enjoy it with a little bit of chili powder or lime juice. Personally, I just like it natural – the way nature intended. Or, if I feel a bit naughty, not many desserts can beat mango sticky rice.
Source: Healthy And Natural World